This series of illuminated prints were created for P O R T A L S--an ever-evolving exhibition that has both existed as a small exhibit of works on paper in Brooklyn, NY, and most recently as an exhibition of large scale paintings, works on paper, illuminated prints, and print installations in Pittsburgh, PA--with work by Vanessa Adams and Eriko Hattori.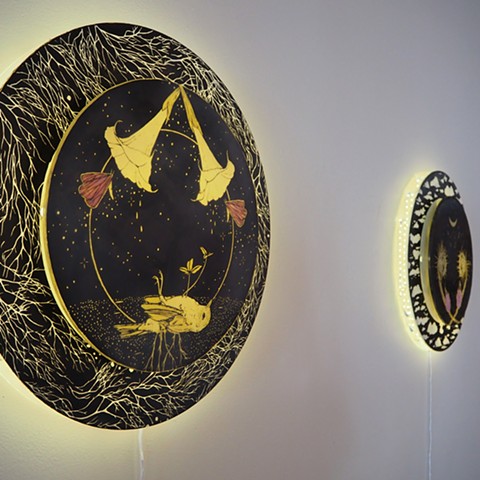 How to Regain Sight: Begin Anew II
silkscreen, encaustic, gouache, LED lights, and plexiglass
26" x 26"
2019
In this recent work, the life cycles of night-blooming plants and the phases of the moon are the visual signposts for stages of growth and transformation. Night-blooming plants have long association with magical states of being and subconscious feelings. The moon's cycles, shifting tides and emotional landscapes, have been used to set intentions and schedule the planting of seeds. By combining these two elements, they are exploring how to inhabit places of darkness, how to harness intuition in the face of the unknown.
Ruminating on ideals and escapes, P O R T A L S brings together Vanessa' and Eriko's visions of possibilities as queer individuals working to survive the current political climate. In P O R T A L S both artists begin from this point of intersection, and then take different artistic directions--highlighting the similarities and differences within their queer experiences and identities. Vanessa explores the life-cycles of night-blooming plants and the phases of the moon to cultivate sources for healing amidst strife. Eriko's focus lies on their personal heritage as a Japanese-American crossed with their queer identity and the cycles that manifest within that intersection. Together their work provides visions of potential and showcases ways for individuals to traverse, manage and digest the seemingly constant states of disaster and crisis in our world.